First Value Your People
---
A faint star has again appeared in the heavens today.
Last seen centuries ago, for our world, it portends hope for freedom from want; freedom from fear; freedom to speak our thoughts; and the freedom to see God in our own way. Last seen in the heavens in 1776, this star is shinning because, People are once again empowering it; invigorating it.
Nearly invisible, our star had faded into obscurity along with billions of others, until people said, "NO! We want our star back, shinning brightly – lighting our path once again!" And, so the star has come back into our sky. Barely distinguishable, but, yes, we can see it.
I offer the star parable to serve as a connection with our past. A long time ago a few of our ancestors arrived at the same spot as we, too, have now come to. They had had enough of working under the heel of the "corporate" boot and self-aggrandizing "officials".
Believing themselves free men and not the property of a nonresponsive government which did not recognize them as equal human beings, they did something to make their lives better. They knew then what we are relearning today — anything is better than economic slavery, existing at the whim of the entitled, super-wealthy, ethically challenged, government controlling .1%. They knew that the well-being of the People come first before corporte profits.
A few of our ancestors put their lives and property on the line to ensure their natural rights and freedom for themselves and their families. And, they fought for what they knew no one on this earth could deny them: their NATURAL RIGHTS and their FREEDOM. They valued people over corporate entitlement - profit.
How does our ancestors' "struggle for economic freedom against the British East India Company monopoly" translate into our world today?
Here is how:
Here is an example of our global struggle against powerful corporate monopolies today:
"The world's largest oil, coal, cement and mining companies have been given 45 days to respond to a complaint that their greenhouse gas emissions have violated the human rights of millions of people living in the Phillippines."
"In a potential landmark legal case, the Commission on Human Rights of the Philippines (CHR), a constitutional body with the power to investigate human rights violations, has sent 47 'carbon majors' including Shell, BP, Chevron, BHP Billiton and Anglo American, a 60-page document accusing them of breaching people's fundamental rights to 'life, food, water, sanitation, adequate housing, and to self determination'."
"The move is the first step in what is expected to be an official investigation of the companies by the CHR, and the first of its kind in the world to be launched by a government body."
"The complaint argues that the 47 companies should be held accountable for the effects of their greenhouse gas emissions in the Philippines and demands that they explain how human rights violations resulting from climate change will be 'eliminated, remedied and prevented'."
"It calls for an official investigation into the human rights implications of climate change and ocean acidification and whether the investor-owned "carbon majors" are in breach of their responsibilities."
"The Philippines, an archipelago of more than 7,000 islands, is one of the most vulnerable countries in the world to climate change."
"This is an important building block in establishing the moral and legal 'precedent' that big polluters can be held responsible for current and threatened human rights infringements resulting from fossil fuel products. From the Netherlands to the US, people are using legal systems to hold their governments to account and demand climate action," she said. (1.)
A third example or our local struggle against powerful corporate "think":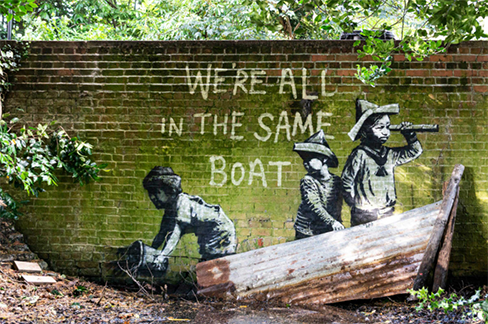 Image above by Banksy, "the famous street artist".
Recently a New England company, Market Basket (2.), fired its president for not doing what the family operated, board of directors had ordered: increase dividends by decreasing operating expenses.
Nothing new there, right? Presidents are fired every day.
Where I live, Metro Detroit, we are very familiar with what "cutting operating expenses" usually means: first lower wages by firing higher earning employees and bringing in "Temps" or lower-paid, part-time younger employees; second, cut benefits, like health care.
We have also seen that cutting operating expenses nearly universally means that customer service is not as important as immediate return on investment. So, customer service goes out the window along with product quality. A little collateral damage is no problem, right?
Today, employees normally accept this as a fact of life. Further, for the most part, they believe there is nothing that can be done about it — that reasonably good paying jobs will be disappeared, with the work sent to India, China or other low-cost countries; lower paid workers will be hired to replace skilled, experienced workers and managers, too. And only then there may be a small chance that the company might decide to keep the local store, service center or manufacturing plant in operation.
Things turned out differently in the case of Market Basket. The "fired" president of Market Basket was an enlightened manager. He paid his people well and made sure they were happy in their jobs. They in turn made customers happy with outstanding customer service. The goods they sold were superior and they stayed on the job for years. While Market Basket grew and prospered they did as well.
When this president was fired they protested and refused to work for the board-hired hatchet men. The workers protested the board of directors' arbitrary and malicious firing of a president known to them as benevolent, honorable and a proven leader.
Forbes Next Avenue , contributing author, Lauren Stiller Rikleen (3.), put it this way: "Market Basket's employees — and the thousands of customers who joined their movement — didn't want to bring down the chain. They just wanted Arthur T. back in charge. This was an unprecedented twist to the history of job actions in America, typically initiated by employees seeking more money and better working conditions."
"The Market Basket uprising wasn't a protest driven by youthful optimism, but rather a reuniting of idealism with a generation that seemed long ago to have moved away from its activist roots."
She went on, saying, "Many boomers, however, stopped standing when they entered the world of work. They accepted the status quo and stopped asking the hard questions. Maybe now they'll be inspired by their Market Basket brethren. Perhaps they'll start asking hard questions about their own workplaces and rethink how their companies value employees."
"If boomers start doing that, they just might be able to finally reclaim their legacy and create a better workplace for everyone."
Only We the People can make our star shine to its former luster and perhaps even more brightly than it did centuries ago.
So, what are we waiting for? Don't wait for someone else to right the wrongs you see everyday. It's your job now. And, it will be your legacy... to your grandkids. - Baker
Resources
1. World's largest carbon producers face landmark human rights case, John Vidal, The Guardian , 27 July 2016.
2. DeMoulas Super Markets, Inc, operates under the name, Market Basket. Market Basket, $4.3 billion (sales), 25,000 employees and 71 stores, is a New England supermarket chain started in 1916 by Athanasios "Arthur" and Efrosini Demoulas. The Greek immigrants, opened a small shop to sell lamb and vegetables from their farm. In 1954 they sold their store to two of their six children, Telemachus "Mike" and George.
3. Go here for the Forbes "Market Basket: The Return of Boomer Activism", by Lauren Stiller Rikleen, Next Avenue Contributor, 28 Aug 2014, or download a PDF version here.
---