The Best and the Most Golden Years
---
You, too, may have been inspired that day, 20 January 1961, when John F. Kennedy spoke, "Ask not what your country can do for you — ask what you can do for your country," Stephen and Barbara Arnest were.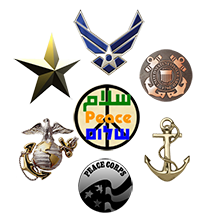 The Arnests were inspired by Kennedy's inaugural words as well as his Peace Corps idea, so much so that they planned to volunteer. But, life — and a bloody coup in Nigeria — got in the way.
So, the volunteering idea went into a hiatus of sorts, patiently waiting for the right time to emerge. And, it did emerge, some 40 years, two careers, a family, and two entire lifetimes later.
After retiring from Ford Motor Co. (Steve) and National City Bank (Barb) the Arnests packed their allotted 80 lbs each of personal belongings and boarded a plane bound for Papua New Guinea.
"We were looking forward to our 26-month stay in New Guinea, when we got on that plane at Detroit Metro Airport," explained Barbara, "even though it meant leaving our loved ones behind in Michigan and venturing into an unknown, for us, environment. It may be hard for one to understand, but back then there was no broadband Internet connection, so communication back home with family and friends was not as easy as it is today. We had to maintain connections by short wave radio, old-fashioned snailmail and when available, dial-up Internet."
"Barb and I knew communication back home would be a challenge," said Steve. "But, we were truly motivated by a desire to be of service to others and that helped us overcome lack of communications connections with our loved ones at home."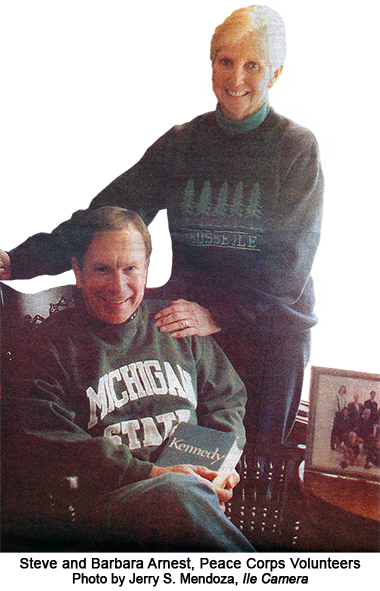 "You know the 'Ask Not…' words were not the only words President Kennedy spoke that day. He also explained our national mission, if you will, in this way: 'To those peoples in the huts and villages across the globe struggling to break the bonds of mass misery, we pledge our best efforts to help them help themselves, for whatever period is required — not because the Communists may be doing it, not because we seek their votes, but because it is right. If a free society cannot help the many who are poor, it cannot save the few who are rich.'"
Steve and Barb knew they had something to give to others in need, no matter where the Peace Corps sent them. They had years of experience for sure, yet, more importantly, anyone who met them instantly knew that they shared sincere compassion and commitment for helping others in need. Today, you will find them even more knowledgeable, compassionate and committed.
"I felt my background in finance and business and Barb's experience in banking would enable us to teach the people of Papua New Guinea to make a better life for them," he said. "While New Guinea was not our first choice, our assignment there proved to be a right choice for us as well as the wonderful people who really became like our 'back-home' family to us."
Steve graduated from Michigan State University with a degree in social science and a master's degree in history from Michigan State University. He taught at East Lansing Junior High School (1960 – 1965) and later became an assistant professor at the University of New York at Brockport, near Rochester, NY.
Barbara graduated from Wyandotte (MI) Roosevelt High School in 1956 and attended Eastern Michigan College (a.k.a. University) in Ypsilanti, MI. In 1958, she and Steve were married. Prior to her Peace Corps experience, Barbara retired from the First of America Bank after more than 20 years of banking experience.
As their family grew, Steve moved too. He joined the automotive industry by taking a position with Chrysler Corp. in quality control. Later, he joined Ford Motor Co. at its plant warehouse and parts distribution center in Woodhaven, MI.
Some 21 years with Ford passed and he decided to retire – but not from challenges. Steve had more on his plate to accomplish, among them were: taking care of his parents, who were in their declining years; work at a golf course; run the Boston Marathon (achieved in 1993); play in a band (He accomplished this objective by playing clarinet with the Downriver Community Band for 12 years.); and to serve in the Peace Corps.
Since 1991, Steve has worked in the maintenance department at the Water's Edge Golf Course in Grosse Ile, MI. and enjoys the work and the camaraderie of some fine individuals. Said Steve, "A few of my friends thought I was 'nuts' to work for low wages. But, you know, that experience taught me that many people are afraid to give up what they perceive as their 'importance'. I found that one doesn't need to wear a title on his or her sleeve, because it's just not good. I believe you have to treat people as you'd like to be treated."
Barbara and Steve share a belief that, "life is scripted by a higher authority". Both are longtime members of St. Joseph Catholic Church in Trenton, MI. She explained, "When I'm in church, I'm most sure of what we're doing."
After making their way to Papua New Guinea, they attended a 10-week training program in order to familiarize themselves with the language, customs and needs of the people of Goroko, which is located in the highlands, several miles from Port Moresby. After the training period they were assigned to the Institute of Medical Research in Goroka teaching HIV/AIDS education.
"Our Peace Corps advisor suggested that we not take anything of value, except perhaps a small book of family photographs," explained Steve. "So, we took a few baseballs, T-shirts, caps, a couple of Frisbees and other small items so that we could share them with the Papuans."
"Sharing is very important to them," Barbara added. "The Peace Corps wanted us to blend in and that's what we did living a similar, native lifestyle."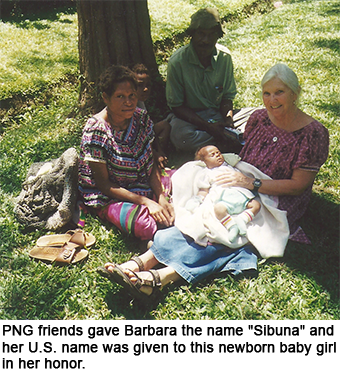 "After all," Steve said, "Our purpose there was to help; not to create a little America. We felt at the time that if we went over there and did nothing else but be good ambassadors for the United States, then we would have accomplished something. And, that's what we did."
Steve added one more thought about their Peace Corps experience, "Being flexible was the key to success. In general, some things we expected to be doing such as conducting workshops teaching writing and computer basics. Others, like cooking PNG-style lunches for our students, were in the 'unexpected, but-worked-out-to-be-a-splendid experience', category."
Also, Barb and Steve used their experiences as a learning tool for students back home through the Peace Corps' World Wise School Program. Barb wrote to children from Monroe Elementary School in Wyandotte (MI) and Steve corresponded with high school students in Huntington Woods, MI.
Steve rejoined the Peace Corps in 2005 assisting the victims of the Katrina Hurricane in New Orleans. His Peace Corps efforts and those of his wife Barbara earned Steve the honor of being elected to the distinguished graduate hall of fame at Wyandotte (MI) Roosevelt High School, his alma mater. Since that time, Barbara and Steve have established a Peace Corps Scholarship at Roosevelt High School given annually to a student that continually displays the true spirit of volunteerism.
Did you know that the Peace Corps accepts volunteers of all ages? Remember President Jimmy Carter's mom, Lillian? She was 68 when she joined the Peace Corps. So, go on now. You might consider giving the idea some thought. - RB
Please read: Letters Home, Steve & Barb wrote about their Papua New Guinea, Peace Corps experience: Foreign Correspondence; Greetings from PNG!; PNG Observations & Facts; and, Helping Hurricane Victims — Survivors Hold Onto Faith.
President John F. Kennedy's inaugural address.
For more information, visit the Peace Corps website.
Considering volunteering? Go here.
---